June 9, 2006
Outta here
Alright, I'm out of here until Monday for the MoCCA show. Come see me if you can; times I'm at the NBM table are listed above. I'll be wandering around most of the other times during the day.
As a last pitch before I go, a reminder to all of you creative types out there- artists, activists, writers, cartoonists, comedians, etc.- the deadline for the Campus Progress T-Shirt Design Contest is Midnight on Sunday night. This is your chance to have Bloc Party, David Cross, Markos from Daily Kos, and Rogan Gregory review your artistic work, and possibly win $500 and be featured in NYLON. If you have any interest in design or art whatsoever I don't think I need to get into how good that all sounds.
I've been reviewing the entries over the last few weeks and a lot of them are really good. A lot of people just pasted some text over a clipart image, a lot of people just lazily submitted old art school projects, but a lot of you actually sent in some really well-crafted designs. You've got 72 hours to keep doing that, and I hope you do.

June 7, 2006
Crisis averted
Several of you have written in to inform me that Ireland actually uses the "standard" measuring system (which is ironically named considering it's not, you know, the actual standard measuring system in the world, what with 85% of the planet using Metric and all that), hence the existence of the Quarter Pounder on the Emrald Isle. In France, it is still called a Royale with Cheese.
xoverboard.com - keeping careful tabs on the crucial details.
Pee-Wee!
Adult Swim has secured the broadcast rights to Pee-Wee's Playhouse. They're going to rebroadcast every single episode. Including the Christmas special.
Mekalekahilekahilekahideyho.

Posted by August J. Pollak at
9:19 AM
June 6, 2006
You know what they call a homosexual Big Mac in France?
Irish Reader Jason Daverth alerts us here in the States about the encroaching gay fast food menace:
I loved your post on the Burger King campaign. I thought you would be interested to know that McDonalds is sponsoring basically the same thing in the UK (I live in Ireland). They have a slogan for their burgers saying "It's No Big Girls Blouse" which has been driving me crazy for months because I had no idea what it meant (I've attached a photo).

Basically, I was recently informed that it is an English pop culture reference that is a derogatory term for homosexuals, so their burgers are, in fact, NOT gay.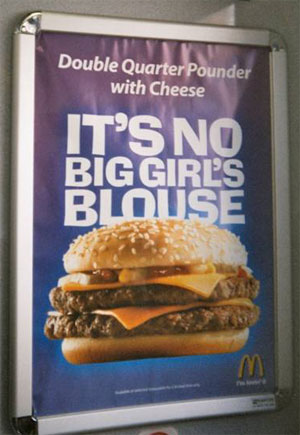 What's sad is, honestly, I'm more startled by the fact that they actually do sell Quarter Pounders in Europe, contra Quentin Tarantino. I am so disallusioned now.
June 5, 2006

Latest comic - "Convenient nonsense"
As a few have noted in the last few days, it seems that it's almost a requirement for membership in the Republican Party to automatically disagree with the idea that global warming is real simply because Al Gore happens to agree with the, you know, everyone else in the universe who do too. I'd love it if one of these new paradigms would actually happen in real life, as it might actually make heads explode.
Apologies in advance for what may likely be a short and lackluster week of posting. In addition to normal day-job stuff, as noted above I will be attending the MoCCA show in New York next weekend, so please stop by if you're in the area.
And if you can't, you know... buy some crap now.