January 28, 2006
20
In what I am sure we all agree is a rarity for this site, I leave you today with a speech delivered by President Ronald Reagan. It is among the finest things ever presented in the English language.
Ladies and gentlemen, I'd planned to speak to you tonight to report on the state of the union, but the events of earlier today have led me to change those plans. Today is a day for mourning and remembering. Nancy and I are pained to the core by the tragedy of the shuttle Challenger. We know we share this pain with all of the people of our country. This is truly a national loss.

Nineteen years ago, almost to the day, we lost three astronauts in a terrible accident on the ground. But we've never lost an astronaut in flight; we've never had a tragedy like this. And perhaps we've forgotten the courage it took for the crew of the shuttle; but they, the Challenger Seven, were aware of the dangers, but overcame them and did their jobs brilliantly. We mourn seven heroes: Michael Smith, Dick Scobee, Judith Resnik, Ronald McNair, Ellison Onizuka, Gregory Jarvis, and Christa McAuliffe. We mourn their loss as a nation together.

For the families of the seven, we cannot bear, as you do, the full impact of this tragedy. But we feel the loss, and we're thinking about you so very much. Your loved ones were daring and brave, and they had that special grace, that special spirit that says, "Give me a challenge and I'll meet it with joy." They had a hunger to explore the universe and discover its truths. They wished to serve, and they did. They served all of us.

We've grown used to wonders in this century. It's hard to dazzle us. But for 25 years the United States space program has been doing just that. We've grown used to the idea of space, and perhaps we forget that we've only just begun. We're still pioneers. They, the members of the Challenger crew, were pioneers.

And I want to say something to the school children of America who were watching the live coverage of the shuttle's takeoff. I know it is hard to understand, but sometimes painful things like this happen. It's all part of the process of exploration and discovery. It's all part of taking a chance and expanding man's horizons. The future doesn't belong to the fainthearted; it belongs to the brave. The Challenger crew was pulling us into the future, and we'll continue to follow them.

I've always had great faith in and respect for our space program, and what happened today does nothing to diminish it. We don't hide our space program. We don't keep secrets and cover things up. We do it all up front and in public. That's the way freedom is, and we wouldn't change it for a minute. We'll continue our quest in space. There will be more shuttle flights and more shuttle crews and yes, more volunteers, more civilians, more teachers in space. Nothing ends here; our hopes and our journeys continue.

I want to add that I wish I could talk to every man and woman who works for NASA or who worked on this mission and tell them: "Your dedication and professionalism have moved and impressed us for decades. And we know of your anguish. We share it."

There's a coincidence today. On this day 390 years ago, the great explorer Sir Francis Drake died aboard ship off the coast of Panama. In his lifetime the great frontiers were the oceans, and a historian later said, "He lived by the sea, died on it, and was buried in it." Well, today we can say of the Challenger crew: Their dedication was, like Drake's, complete.

The crew of the space shuttle Challenger honored us by the manner in which they lived their lives. We will never forget them, nor the last time we saw them, this morning, as they prepared for their journey and waved good-bye and "slipped the surly bonds of earth" to "touch the face of God."
-January 28, 1986

January 27, 2006
Ann Coulter: let's murder a Supreme Court Justice
The tally, for those of you keeping count of the number of times Coulter has now suggested murdering someone: Supreme Court justices (twice), various foreign leaders (twice), John Walker Lindh, and the entire staff of the New York Times.
Look! Hillary Clinton said "plantation!"

Posted by August J. Pollak at
3:28 PM
January 26, 2006
The Itis!
Cartoon Network has made it official: The Boondocks is renewed for a 20-episode second season.
Update: I only heard today that Al Sharpton is, of course, mad about the show because of the gratuitous use of a certain word. Steve addresses the nonsense better than I could:
Besides the gorgeous, anime-level animation, the politcs here are much more aggressive than in the strip. The word nigga is the least reason to complain about the show. The grandfather beats a man to death over an argument, Uncle Rukus is a self-hating black man who would surpass the clowns who work for NRO. In short, there is a lot to dislike about the show.

But, the fact is that this is the first time a non-rapper, non-novelist gets to have a forum to discuss black life from someone under 50. This is a nearly unique perspective on modern African American life and it is not comfortable at times. But it is not ignorant either. It is extremely well thought out and makes points in a way which need to be made.
Hell, that should be on the cover of Adult Swim's press packet.
January 25, 2006
Soup Nazis
Just go read. Some people are just freaking evil.

Posted by August J. Pollak at
6:39 PM
January 24, 2006
I write letters
In light of Attorney General Gonzales still defending President Bush on the illegal spying of Americans, I realized that there might be a snag in the 2006 George W. Bush Dead Kitten Survey. At this point I honestly have no idea if the Justice Department would actually themselves find an issue with Bush killing a kitten with a hammer.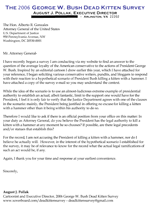 As I've said numerous times, despite the satire and silliness of this thing, the Survey is still a legitimate experiment and when possible I will adhere to legitimate terms. Ergo, I wrote the Attorney General this afternoon to ask for his position on the President's authority to kill a kitten with a hammer.
Click the thumnail for a scan from the letter. Other than my address being blurred, and the lack of signature (I made a PDF straight from the Word doc), this is an exact copy of the letter I mailed to the Justice Department today. As if it actually needed to be said, I'll of course post any response if and when it comes. Let it be known the Attorney General officially has his chance to clarifiy this for the record.
For convenience, here's the text of the letter, which also included a copy of the cartoon referenced in the survey and a copy of the survey e-mail itself:
Mr. Attorney General-

I have recently begun a survey I am conducting via my website to find an answer to the question of the average loyalty of the American conservative to the actions of President George W. Bush. Inspired by an editorial cartoon I drew earlier this year, which I have attached for your reference, I began soliciting various conservative writers, pundits, and bloggers to respond with their reaction to a hypothetical scenario of President Bush killing a kitten with a hammer. I have attached a copy of the survey e-mail so you may understand the context.

While the idea of the scenario is to use an almost-ludicrous extreme example of presidential authority to establish an actual, albeit fantastic, limit to the support one would have for the President, I feel it is only fair to verify that the Justice Department agrees with one of the clauses in the scenario: mainly, the President being justified in offering no excuse for killing a kitten with a hammer other than it being within his authority to do so.

Therefore I would like to ask if there is an official position from your office on this matter: In your duty as Attorney General, do you believe the President has the legal authority to kill a kitten with a hammer at any moment he so chooses? If possible, are there legal precedents and/or statutes that establish this?

For the record, I am not accusing the President of killing a kitten with a hammer, nor do I believe he actually will. However, in the interest of the hypothetical scenario I established for the survey, it may be of relevance to know for the record what the actual legal ramifications of such an act would be, if any.

Again, I thank you for your time and response at your earliest convenience.
Who did the what now?
It's official: Disney buys Pixar for $7.4 billion. Steve Jobs is now the largest single shareholder of Disney stock and instantly granted a seat on the Board of Directors.
It's amazing how there are really only two reactions you can have to this, both on opposite extremes. This could be fantastic news, and the thought of Jobs and Pixar having severe influence on quality-oriented product through Disney animation could restore Disney back to it's late-80's glory. On the other hand, half of me wants to jump out the damn window.
Posted by August J. Pollak at
4:49 PM
Like normal, but less talk about the butt
Ezra Klein is single-handedly running operations over at Wonkette today. Go indulge.

Posted by August J. Pollak at
3:42 PM
January 23, 2006

Newest comic - "More from those wacky College Republicans"
As noted at the bottom of the cartoon, the bulk of the research here is courtesy of the fact-finding and news reporting of Operation Yellow Elephant. So if you haven't given them a look yet, then you should.
Now buy some crap, and keep checking the Survey's main page for updates. You'll note the new post icon, which will help point out which posts are updates to the Survey.

January 22, 2006
Folie a douchebag
Jay Tea of Wizbang has responded to the Survey. Sort of.

Posted by August J. Pollak at
9:29 PM